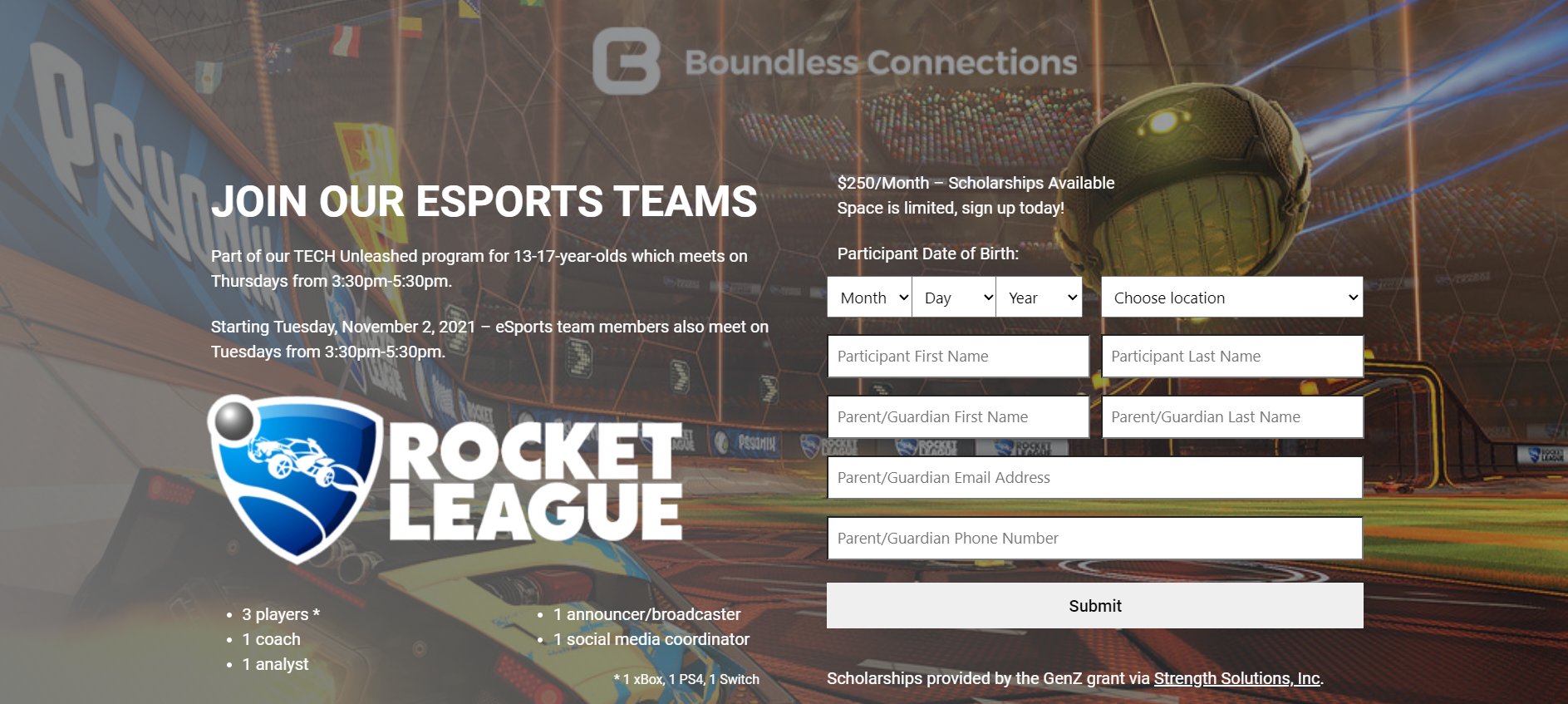 Boundless Connections will hold a special sign-up event to form esports teams as part of its teen programming, 3-8 p.m., Monday, November 1, at the Mercantile on Main at Sibley Square, 260 E. Main St., in Rochester.
Teams will be competing in Rocket League and League of Legends Wild Rift. Each team will include three to five players, a coach, an analyst, an announcer/broadcaster and a social media coordinator.
The esports teams will be part of the Boundless Connections TECH Unleashed program for 13-17 year-olds and will meet 3:30-5:30 p.m. Tuesdays and Thursdays at the technology center in Sibley Square.
"Just like physical sports, esports cultivate leaders," Christina Lopez, Boundless Connections CEO, said. "If you've played sports, you know there's a hierarchy with coaches, mentors and team captains. This same structure exists in esports, and it helps young people develop their collaboration, creative problem solving and resiliency.
"Esports are also a way to take something teens are already doing (gaming) and explore a potential career or side gig since the gaming industry has many lucrative opportunities," Lopez added.
As TECH Unleashed members, esports team members receive a junior membership giving them access to the tech center during staffed hours without a parent or guardian. Staffed hours are 9 a.m. to 8 p.m., Monday through Friday, and 12:30 – 8 p.m. Saturdays.
Spots are also available for new members in the TECH Unleashed program 3:30 – 5:30 p.m. Thursdays for teens interested in computer programming, 3D printing, augmented and virtual reality, graphic art, internet of things, smart tech, cyber security and audio/video editing. Full scholarships are available thanks to funding from Generator Z, a teen-led initiative to reimagine the future of afterschool.
Boundless Connections' goal is to help community members keep up with the rapid pace of change in technology, meeting the demands of a dynamic and evolving workforce while helping members develop essential skills.
Monthly, yearly, family and corporate memberships and day passes are also available and include: tech support, touchscreen laptops equipped with Microsoft Office, Microsoft Surface Studio computers with Adobe Creative Cloud, 3D printers, work desks, Arduino Smart Internet of Things kits, kids coding toys, coffee/tea and a comfortable living room atmosphere.
Boundless Connections also offers interest and networking clubs and programs. For more information visit boundlessconnections.com.
To schedule a tour, email rochester@bctechcenter.com or call 585-420-6868. Walk-ins are also welcome.
The Boundless Connections Technology Centers make state of the art digital technology accessible for everyone. The tech centers provide a focal point for young and old with various skill sets and interests to collaborate and utilize the power of cutting-edge technology. The programs and events are designed to develop a technology pipeline and create a pathway for people to engage and solve local challenges with technology. These programs and events are tailored to various interest groups or demographics.